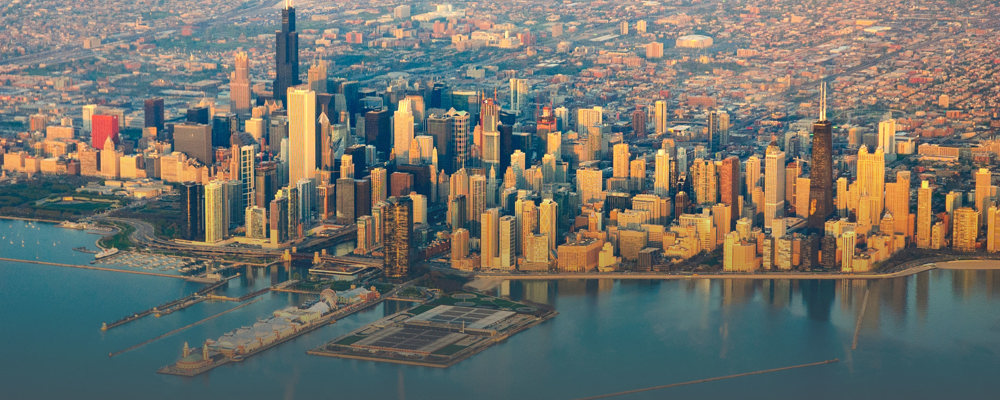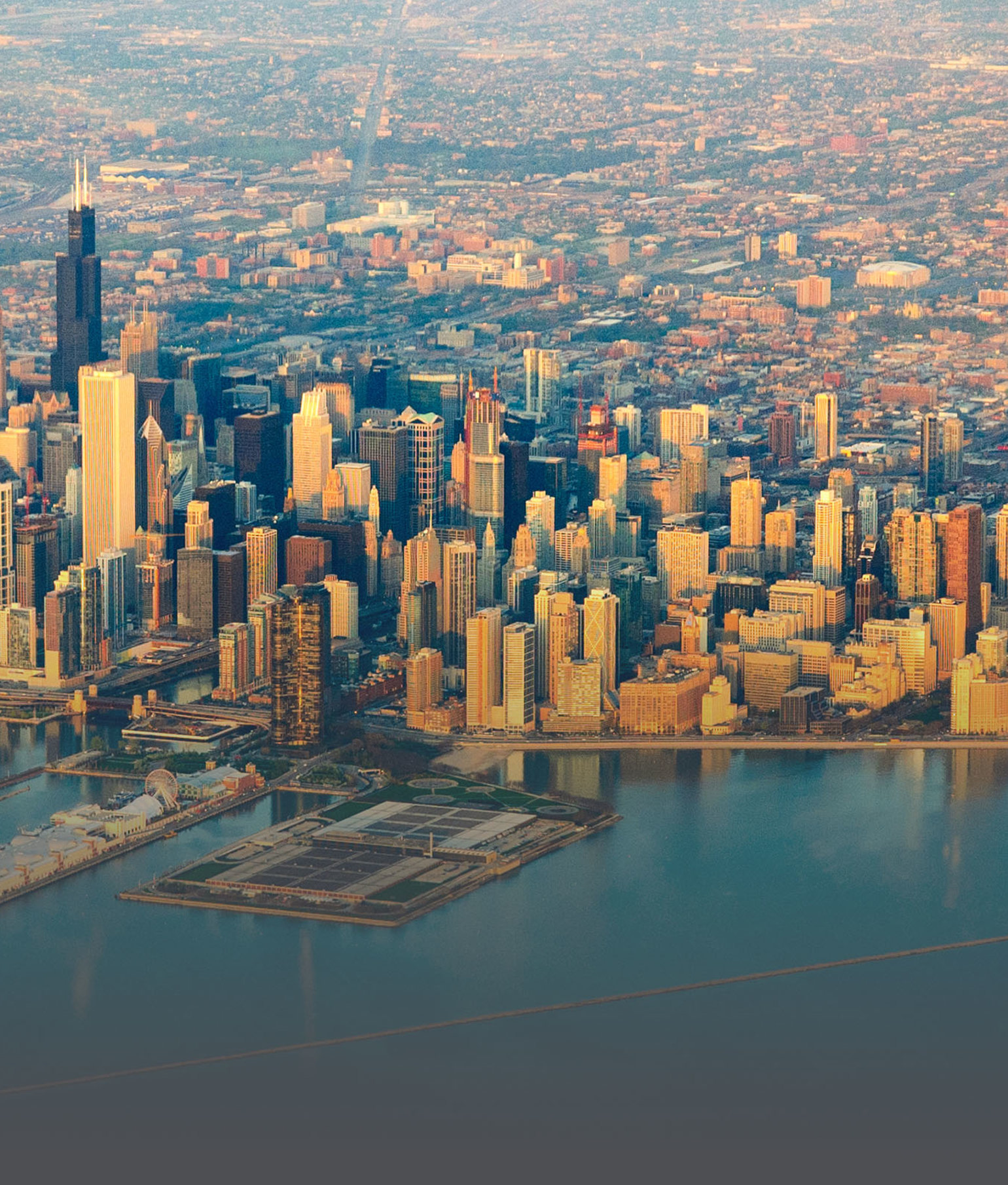 The Midwest - is this the next major growth market for flexible space?
tuesday, 19 march, 2019
The US market for flexible space showed sensational growth last year - but where will grow rapidly next?
The US market for flexible space showed sensational growth last year. States such as New York, California and Texas expanded with an average increase of 12 per cent in supply of center numbers. And this double-digit growth came about despite these markets being some of the more mature markets for flex space.
There is now an estimated 80 million square feet of flexible space in the U.S., compared to 50 to 60 million square feet in the UK, the world's second largest market.
But our prediction in this coming year is that Midwest is the next growth market for flexible space, driven by high living and workspace costs in the urban hubs of the East and West coasts.
The table below shows the increase in supply across a number of Midwest states - Kansas, Nebraska, and Oklahoma all show growth rates of over 20% when comparing 2017 to 2018 center counts.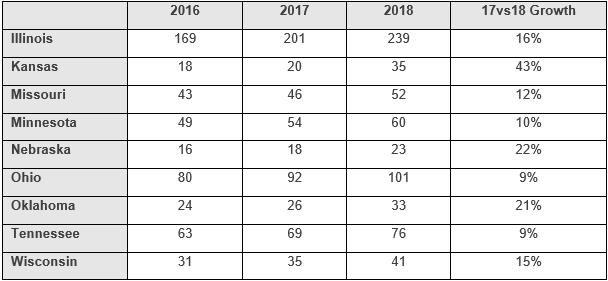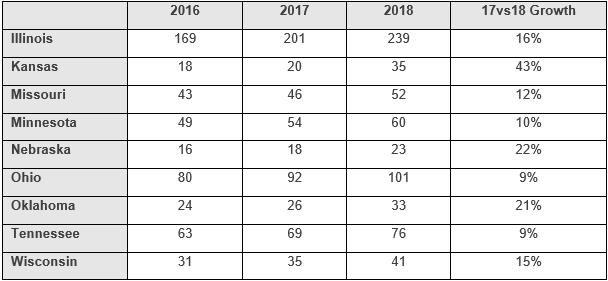 Investment into the Midwest
For the last four years, AOL co-founder Steve Case has been criss-crossing the US, leading a pitch for economic renewal for all American cities driven by start-up investment and technology-based entrepreneurialism. Case's travels have culminated in the creation of a fund called "Rise of the Rest" — a $150 million vehicle for capital raised by some of tech's highest-profile names. And this is just the start of a concerted effort to grow and develop America's secondary cities.
'Rise of the Rest' has attracted investors such as Amazon founder Jeff Bezos, Eric Schmidt, the chairman of Google's parent company, Alphabet; Jim Bryer, the former head of the National Venture Capital Association and an early investor in Facebook; Kleiner Perkins Caufield & Byers partner John Doerr; and Facebook's former President Sean Parker; they have come together with the family offices of some of America's wealthiest people to back the initiative.
As Schmidt told The New York Times, "There is a large selection of relatively undervalued businesses in the heartland between the coasts, some of which can scale quickly."
But the Midwestern investment scene isn't just defined by Valley transplants coming in. Some of the entrepreneurs behind the region's home-grown success stories, such as Indianapolis' ExactTarget, have launched funds of their own to plant an entirely new crop of tech companies in the Midwest.
The Midwest has also long been the hub for automotive, healthcare, supply chain industries. As we continue to see technology further integrate into these sectors the demand for talent surges. Additionally, with the high cost of living in New York and San Francisco we see a migration to lower cost of living locations like Nashville, Kansas City, Indianapolis, Detroit and Columbus.
And it's not just people showing an interest in these areas, technology companies are also taking note. Start-ups are no longer seeking to set-up in locations such as Silicon Valley and New York. Sprout Social and C2FO are two tech companies which have moved to the Midwest, according to Forbes, There is a growing sense that while New York and San Francisco used to be the only locations with enough infrastructure to support the growth, this is no longer the case.
What is the impact on the office market?
With traditional real estate values increasingly unaffordable for companies in the large West Coast and East Coast urban centers, companies are looking to reduce the impact on their balance sheets and the cost of living for staff by re-locating. This activity is reported to have created a mini boom in commercial property in cities such as Chicago, Indianapolis, Cincinnati and Detroit. Flexible workspace is beginning to take the strain of this increased requirement for space.
 
Larger flex space providers and landlords are taking note
In 2018 flexible providers including WeWork and Industrious have all expanded into midwestern cities with the aim of supporting a growing number of skilled employees.
Traditionally, these cities thrived on manufacturing and less technology driven industries therefore have been previously slow to see flexible growth compared to markets such as New York and San Francisco. And as traditional real estate costs are comparatively affordable in the secondary cities there has been less financial imperative to seek out flexible workspace options.
However, with more skilled workers moving from the largest U.S. cities and re-locating to areas with lower living costs, demand for flex space is beginning to spike. From our experience, this additional demand is coming from clients who have used co-working or flex space before and, as contingent workers are only looking for one or two desks – our data shows that the average requirement size has increased from 2.9 to 3.3 desks in these states across the last 12 months. Larger companies are also choosing to locate satellite offices in these cities, with the number of 25+ desk requirements doubling in the same period.
For the companies themselves large saving can also be achieved in these alternative locations, with drastic reductions in rates and are keen to limit the initial capital expenditure / set-up costs that leases require.
For example, at present our data shows that the average workstation rate in St Louis is just $713, compared to $1,083 in Los Angeles which is a significant 40% difference in desk rates. Other locations within the Midwest follow a similar sort of trend:
Future Growth
The Midwest Business Condition Index reported the 20th consecutive month of growth, and it's unlikely this growth is set to curb any time soon.
When looking at future growth markets the flexible industry maybe should be looking to cities that have previously suffered hard times, where prices are present are lower but the room for growth and development is high.
These locations are becoming more attractive to employers who are looking to sell an overall quality of life to future employees rather than just a job, a factor that is becoming more important with the next generation of workers.


---
GET INSIGHTS IN YOUR INBOX
THANKS FOR SIGNING UP TO INSIGHTS
CHECK YOUR INBOX OR FOLLOW US ON TWITTER FOR THE LATEST INSIGHT