Thursday, September 8 , 2022
With flexible work becoming mainstream, operators have seen record demand growth across Latin America, which is a very positive sign for the flex industry.
In recent years, Latin America has become an increasingly appealing destination for coworking developers and companies. 
One of the key reasons for this is the region's rapidly growing economies, which are seeing new opportunities for coworking as more multinational corporations (MNCs) choose to relocate to these markets. While Argentina and Venezuela are imbibed with challenges due to macroeconomic and political factors, countries such as Chile, Colombia, Costa Rica, and Peru have become in-demand destinations for expanding MNCs and startups alike.
For example, this April, LinkedIn worked with The Instant Group to secure its first flexible office space in Mexico City and second in Latin America. Landing on a bespoke, fully customized workspace in an IOS Offices coworking venue, LinkedIn is one of many MNCs looking beyond regional lines to attract new talent and establish an entry point into Mexico's market.
What is it about this region that attracts established companies? Beyond its large pool of highly skilled workers, Latin America also enjoys favorable tax incentives and a convenient location for companies with customers in North and South America. Its geographic proximity to the United States makes it easier for companies to expand into the region and operate within the same time zone, or one within very close range. 
As a result of these and other advantages, regional entrepreneurs and investors are growing their coworking presence in the region because of its large population and potential customer base. Latin America has a total population of around 665 million people, ranking fourth among regions of the world as ordered by population. 
With flexible work becoming mainstream, operators have seen record demand growth across Latin America, which is a very positive sign for the flex industry. According to data from The Instant Group collected August 2022, demand for larger spaces of 25+ desks has increased by 83% compared to pre-pandemic levels.  
Though Mexico City and Sao Paulo have long been the flex capitals of the region, newer markets such as Bogota and Guadalajara have seen greater demand in recent quarters. Further investment in supply will be needed, however, as demand will soon outstrip supply in these secondary markets, driving up prices.
Venture X is one of several major U.S. coworking operators who have expanded into the region recently, opening its first coworking space in Costa Rica in 2020. The operator, which works under a franchise model, has plans to also expand into Honduras and Mexico in the next six months. 
President of Venture X, Michael White, says because the population and businesses in Latin America have been historically underserved when it comes to premium professional flex workspace solutions, the opportunity is ripe — especially for franchisees. 
"Franchising [flexible office spaces] has had success throughout Latin America, as the local population is receptive to U.S. brands," says White. "Our business model benefits by partnering with master franchisees who understand the local market and who can help drive the growth in their home countries." 
According to White, Latin America has outpaced other growth markets since 2010 and provides necessary resources and infrastructure for growing businesses. With an average cost of living that is roughly 25% less than the U.S. average, the region's favorable production, operational costs, and expansive shipping capabilities make it logistically a great landing spot.
Growth of the coworking market
Compared to other hotbeds for coworking like the UK and parts of Asia, the coworking industry in Latin America has been slower to develop. In the past four years, however, there has been a steady growth in the market, with flexible workspaces occupying around 2.6 million square meters of office space in 2022. This is compared to 2.45 million square meters in 2019, giving evidence to the fact that the industry has had slow but steady year-over-year growth even at the height of COVID-19 in 2020.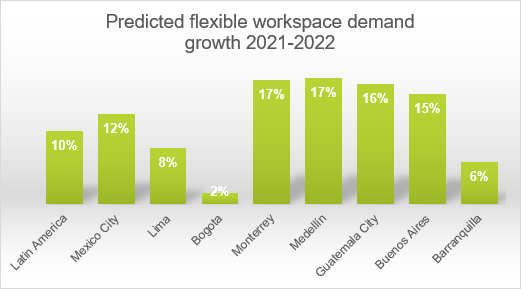 In total, data by The Instant Group shows there are now roughly 525,000 flexible workstations throughout Latin America. By the end of 2022, the region's flex market is forecast to represent over 2,680,000 total square meters of space. 
In comparison to most other markets, the pricing for renting a hot desk in many Latin American countries is significantly lower. In Central America, for instance, the average price for a monthly hot desk among 116 coworking spaces was $196 USD in 2022. In South America, the average price is even less, coming in at $151 USD per month. This is much more affordable than monthly pricing in North America, which is significantly more expensive on average at $246 USD per month.
When looking at the five largest coworking markets in Latin America (Brazil, Chile, Colombia, Mexico, and Peru), the greatest supply of flexible office space is concentrated in Sao Paulo, accounting for 15% of total supply in the region. In second place is Mexico City, which accounts for 13% of the total market. According to The Instant Group's research, cities such as Bogota, Buenos Aires, and Santiago are gaining significant momentum and are emerging as key flex hotspots. 
With different players entering the marketplace to fulfill the rapid demand for casual office environments in the region, this has resulted in a competitive albeit fragmented flex industry. At present, 51% of flex supply consists of single-location operators. Overall, Latin America has seen a 230% growth in supply in the last decade, compared to the 196% growth in the U.S. in the same period.
In 2019, an increase in supply drove down workstation rates, and in 2020, the effects of COVID-19 resulted in rent cuts as operators tried to retain clients and fill vacant space. In some cities, rates were at least 20% reduced and as much as 70% reduced as part of a long-term engagement strategy to retain clients during the pandemic. 
What's next for flex in Latin America?
The market for flexible workspaces in Latin America has a lot to gain from the shift in workplace strategies and occupier expectations brought about by the pandemic. 
Historically, working from home was not a common practice in the region pre-COVID; businesses largely favored a more traditional approach to working and expected employees to be present in an office. But now, a wider variety of corporate occupiers in Latin America are turning to flex space as a viable solution for their return-to-work strategies, especially in the sectors of consulting, healthcare, and technology over the last 18 months. 
With a hybrid work model taking hold, it can be assumed that flexible workspaces will become increasingly mainstream. Already, the market is extremely diverse, covering over 30 countries and 160 cities, and prevalence will only grow as demand remains steady.
Another trend that is likely to continue in future months is the changing nature of Latin American "lifestyle cities" becoming business hotspots. The generally low cost of living in many Latin American cities has solidified the region as a popular destination for digital nomads in the past. But as remote working continues to explode, enterprises are now recognizing the value in relocating to the region, leading many to capitalize on and embrace "lifestyle cities" that are characterized by favorable weather and affordable costs of living. 
Overall, the increase in remote workers, decentralization of work, and prevalence of startups has led the space-as-a-service model to expand rapidly in Latin America. 
As the region continues to develop, it is likely that even more coworking developers and companies will choose to do business in the region, leading to new flexible workspaces and an increasing amount of supply.
Photo credit for the images used on this page belong to Co-Work Latam. 
Read next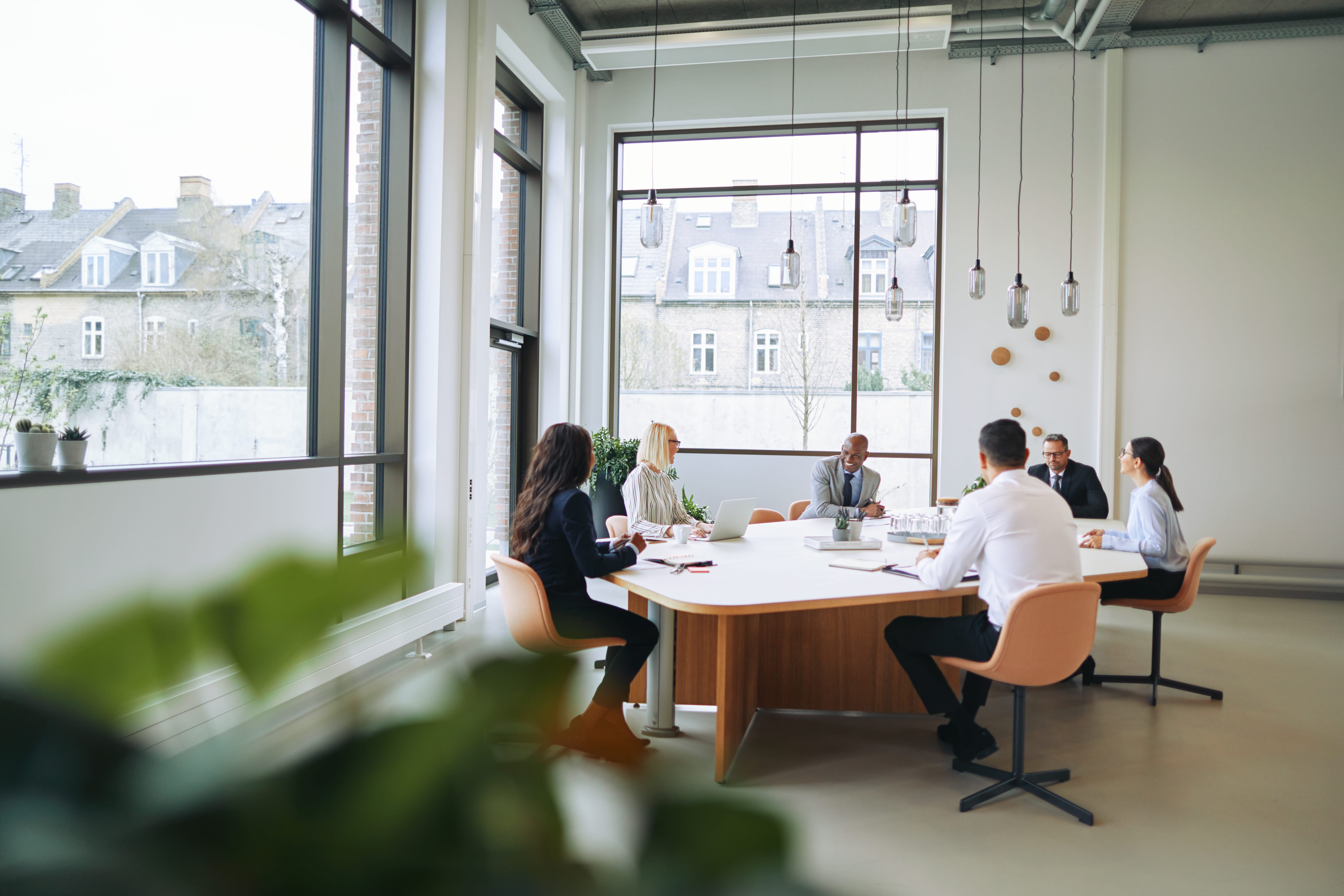 US and UK Place Amenities at the Core of Workplace Solutions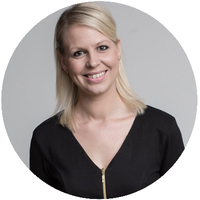 Need something custom?
Our experts can deliver insights or a flexible workspace report tailored to your specifications.