Tuesday, May 16 , 2023
Flexible workspace locations in the UK achieve highest ever occupancy levels, with overall occupancy at 83% and nearly half (42%) of spaces reporting 90% occupancy according to our latest research.
The record high levels are a clear sign that flexible offices, which provide agility, amenities, and services, are aligned with occupier requirements. The strong desire for additional flexibility is reflected in the polarization of occupancy rates between traditional and flex offices. Occupancy rates within London continue to outpace the UK average sitting at 84%, driven by the adoption of flex from sectors that have typically favored traditional office leases in the past. One key example is financial services firms, in the last quarter the number of flex desks occupied by the financial sector has doubled.
In the core UK cities of Birmingham, Manchester, Leeds, Bristol, and Edinburgh flex vacancy rates have dropped between Q4 2021 and Q4 2022. While traditional office vacancy rates have increased in the same time period. In Leeds just 10% of flex workspace is vacant, decreasing from 15% in the 12 months to December 2022. Leeds is experiencing some of the lowest vacancy rates due to the supply/demand imbalance in the city.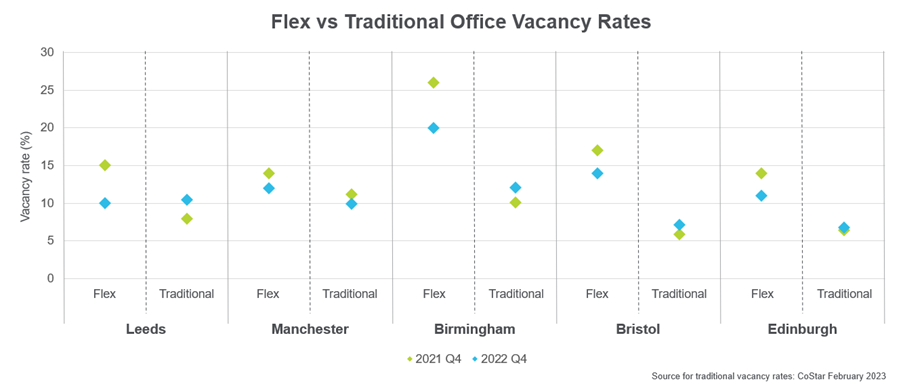 For those businesses yet to pivot to a flexible office, large flexible workspaces are becoming harder to find. Just 22% of available space across the UK is able to accommodate over 50 desks. The quality of a space is also impacting on occupancy levels with high-end spaces averaging 86% occupancy, compared to 77% for value-focused solutions.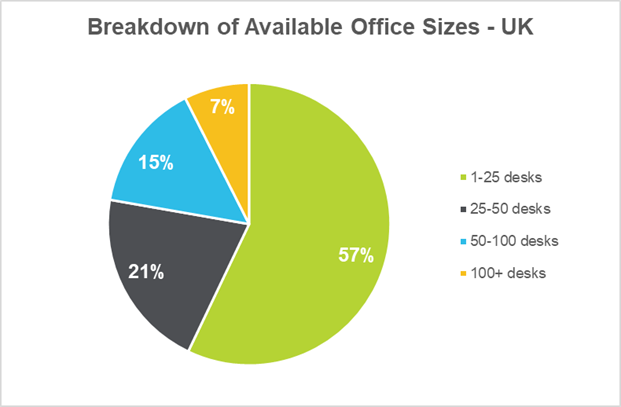 "The flex sector is continuing to outperform the wider office market reflecting the demand from occupiers for greater agility. A wide range of businesses now recognize the benefits of flexible workspace and the ability to modify workspace requirements based on headcount and utilization. As contractual occupancy rates in flexible workspaces across the UK hit record highs, larger organizations still looking to pivot to a flexible workspace will find it increasingly challenging to find space as supply coming onto the market struggles to keep pace with growing demand. This points to a huge market opportunity for office owners and investors to diversify their assets with flexible products and for operators to expand their flex space offerings to capture the rising demand for flexibility."
Lucinda Pullinger, Managing Director, UK, The Instant Group
Read next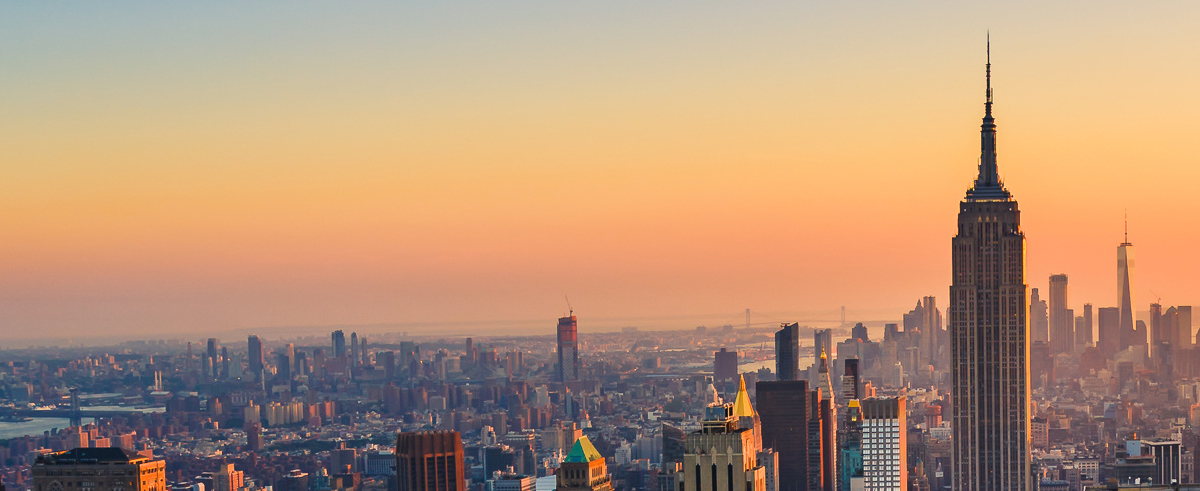 Webinar - Using Data to Select and Open Profitable Centers in North America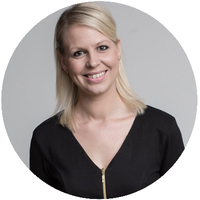 Need something custom?
Our experts can deliver insights or a flexible workspace report tailored to your specifications.