Wednesday, March 22 , 2023
Based on our expertise at The Instant Group, this comprehensive glossary presents definitions of the 38 most commonly used terms in the flexible office and coworking industry.
Office space no longer simply refers to traditional buildings managed by landlords. 
By merely adding the word "flexible" in front of office space, it's anyone's guess if this refers to virtual offices, serviced offices, or on-demand hot desking — to name just a few types of the alternative places we now work from.
The office of the future is not a single location; it is a network of spaces and services. This network includes spaces designed for performing specific tasks such as focused work, team brainstorming, client presentations, employee training, meetings, and more. 
The way we talk about our places of work and what their purpose is has led to an outpouring of new definitions, though the terms often differ from country to country, or region to region.
Based on our expertise at The Instant Group, what follows is a comprehensive glossary of terms that are used most frequently in relation to flexible office space. Let's dive in to learn the terms that matter most.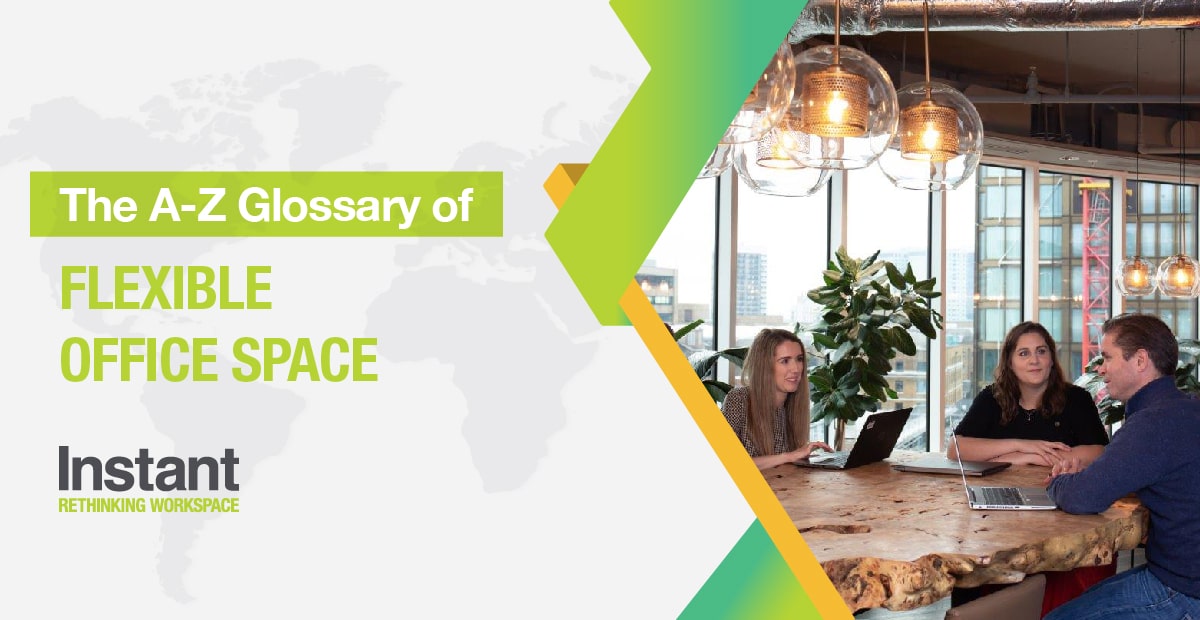 Agile Working 
Agile working is a style of work that values flexibility and adaptability, and is designed to be responsive to change. Agile methods are often in contrast to traditional "waterfall" approaches where work styles are more linear and fixed. Agility suggests an anytime, anyplace, anywhere attitude. Thus, most agile workforces give employees a great deal of autonomy in choosing when and where they work. 
Amenities
Office amenities are additions to a workplace beyond the minimum requirements for employees to work. Properties that include a diverse array of amenities — from health and wellness offerings to catering options and outdoor space — are expected to generate higher demand from tenants versus their plain commodity counterparts. 
Business Center
A business center is a professionally managed commercial facility that usually includes a cluster of serviced offices. Offering end-to-end business infrastructure like administrative support, call and mail handling, and reception services, business centers typically provide access to meeting rooms and operate under flexible leasing terms. 
Broker
A broker is a third-party agent in the client/operator agreement process who helps to facilitate the procurement of an office space. Brokers will often help to match businesses or individuals with available workspace worldwide based on the client's particular needs. After a contract is signed, the broker will usually charge the operator a commission fee. 
Business Lounge
A business lounge is a shared workspace that is typically located in an airport, hotel, train station, or other transportation hub. Business lounges are designed to provide travelers with a place to work, relax, and conduct business while they are on the go. 
Community Manager
A community manager is responsible for the overall management and operation of a coworking space. This includes maintaining the physical space, managing membership and billing, and overseeing day-to-day operations. Community managers are typically the primary point of contact for members and ensure that their needs and concerns are addressed.
Coworking 
Coworking is the use of an office or other working environment by people who are self-employed or working for different employers, typically to share equipment, ideas, and knowledge. As a global movement that first gained traction in the early 2000s, coworking offers both cost savings and convenience using common infrastructure, appealing to individual freelancers and corporate teams alike. By encouraging greater flexibility, a spirit of community, boosted productivity, and lower costs, coworking encourages members to connect, collaborate, and socialize.  
There are several different product types or terms that fall beneath the category of coworking:
Dedicated desk - A personal desk within a coworking space, sometimes referred to as a coworking desk, that is rented out and reserved for one individual.
Hot desk - Available on a first come, first service basis, hot desks are open-area workstations that have no permanent owner and cannot be formally reserved. 
Shared office space - A shared office space, which is used synonymously with coworking spaces, is an open workspace where people from multiple teams or companies can work together on a flexible basis.
Day Pass
A day pass is a type of pass that allows an individual to use the facilities and amenities of a coworking space for a single day. Day passes are often used by individuals who need a place to work for a short period of time, such as when they are traveling or between job assignments. They may also be used by individuals who want to try out a coworking space before committing to a membership. 
Dedicated Desk
A dedicated desk is a personal desk within a shared office space that is rented out and set aside for one individual. Unlike hot desks, which are first-come, first-serve, a dedicated desk guarantees that members will always have a workstation available to them where they can set up and even keep their belongings. Many operators offer dedicated desks in more private or secluded sections of a coworking space, and they tend to come at a higher price than shared desks.
Digital Marketplace 
Digital marketplaces are online platforms for both sellers and buyers that match buyers seeking a service or product with sellers or providers of those products or services. Not only are digital marketplaces simple to use from a seller's perspective, but they are also often user-friendly and provide a one-stop shopping experience to buyers.  
Enterprise Coworking Solution 
Enterprise coworking solutions are a type of flexible workspace arrangement tailored to meet the needs of large companies. Operators that accommodate enterprises often provide available desks, offices, or workstations for teams of 100, 200, or more employees. In some cases, enterprises will require additional services specifically designed for their team based on the kind of work they are doing.   
ESG (Environmental, Social, Governance) Standards
Used primarily as a risk-rating criteria by financial institutions to assess a company's "green" credentials, ESG has become an important business consideration in commercial real estate. It is a framework that allows investors to measure the impact of their real estate investments across environmental, social, and governance-related factors. Assessing ESG standards is now embedded into every stage of the property lifecycle, from due diligence to acquisitions and from leasing to asset management.
Executive Suite
(Also known as: Serviced Office)
An executive suite provides a tenant with private office space outfitted with basic furniture as well as shared amenities such as lobbies, break rooms, and conference rooms. The term is most often used in the United States and falls into the same product category as serviced offices, arranged on a short-term basis.
Flexible Office 
A flexible office, also referred to as a flex space or flexible workspace, is an all-encompassing term for several types of workspaces including coworking spaces, hot desks, managed offices, serviced offices, and virtual offices. A flexible office is designed to accommodate changing business objectives and gives workers the freedom to work how, when, and where they want. While every flexible office may look a little different, many share the basic elements of open-plan layouts, quiet areas, shared utilities, and adaptable workstations, like standing desks, phone booths, or coffee bars.  
Flexible Office Operator 
A flexible office operator (or provider) manages and runs a flexible workspace. Most flexible office operators are either privately-owned workspace companies, individual landlords, or franchisors. Operators typically differentiate their workspaces by offering value-added services, such as reception services, podcast and creator studios, phone answering, technology integrations, and other specialized features.  
Hot Desk or Desking 
Hot desking is a workplace system where employees use available desks at different times on a first-come, first-served basis. Hot desks, or open-area workstations, have no permanent owner or occupier and cannot be formally reserved. The term is said to have been derived from "hot racking" – the practice of sailors with different shifts sharing the same bunk at different times. 
Hub-and-Spoke Office Model 
The hub-and-spoke model for office space typically sees a distribution of offices in different locations. The distribution is usually based on both talent location and client needs. 'Hub' office locations are often bigger than their counterparts, situated near city centers, and easily accessible by public transport. They are seen as the business headquarters, serving as the place for meetings, team collaboration, and events. 'Spoke' locations are generally smaller and closer to employee homes. As satellite offices, 'spoke' locations can take many different forms, including a hot desk at a coworking space or even a home office. 
Hybrid Office
A hybrid office is a type of workplace that combines elements of both traditional office environments and flexible workspaces, such as coworking spaces. A hybrid office may include a mix of private offices, shared workspaces, and common areas. They are designed to be flexible and scalable, so that businesses can add or remove space as their needs change. Hybrid offices are a good option for businesses that want the benefits of a traditional office, such as dedicated space and a professional image, but also want the flexibility and cost-effectiveness of a flexible workspace.
Hybrid Working 
Hybrid working is a type of work model where an employee splits their time between a physical workplace (such as an office or coworking space) and working from home. Implementing a hybrid work model gives employees the autonomy to choose to work wherever and however they are most productive. As a people-first work model, hybrid working is said to boost productivity and job satisfaction while addressing the major challenges of remote work, such as isolation and lack of community.   
Managed Office 
A managed office is a fully-customizable private workspace that is built to meet each occupier's requirements and managed by a single provider from move in to move out. From sourcing the property and landlord lease negotiation to designing and branding the space, managed office providers typically deliver flexible contracts ranging from 12 months to five years, though longer terms are available. A managed office space is taken care of by a single third-party provider, which means that the cost of office furniture, additional fittings, maintenance, hospitality, utilities and even exit costs are all included and managed within a fixed monthly or quarterly rent price.   
Meeting Room Booking  
Meeting room bookings occur at flexible workspaces and include meeting rooms or private offices that can be booked on demand for a set time period. In most cases, individuals that want to utilize a flex space's meeting or conference room can do so without purchasing a full-time membership. Meeting rooms can usually be booked by the hour and are equipped with facilities such as whiteboards, flipcharts, technology integration tools, catering, and phone conferencing. 
Membership 
A membership relates to any month-to-month access to a flexible workspace on an individual basis. This includes monthly multi-operator access subscriptions sold as well as single-operator monthly memberships. Memberships are structured by each individual flexible office operator and can include added costs for things like meeting room access, private office usage, and other service offerings. 
Landlord
A landlord is a person or entity that owns property and rents it to tenants. Landlords are responsible for maintaining the property and ensuring that it is in a habitable condition. Landlords may be involved in managing a property, such as hiring maintenance staff or handling repairs, as well as overseeing on-site administrators. 
Leased Office Space
See Traditional Office Space.
Net Zero
Net Zero means achieving a balance between the greenhouse gasses put into the atmosphere and those taken out. In real estate, property owners set Net Zero targets to help them reduce the amount of greenhouse gasses emitted to as close to zero as possible and mitigate remaining emissions by making use of off-setting or carbon removal techniques.
Operator
An operator is the most common term used to describe an owner or brand of a coworking space. Also referred to as providers, coworking operators manage one or more spaces and are responsible for the brand's development, staffing, and finances.
Private Office
A private office is a dedicated workspace that is exclusive and privately owned. Private offices can be one office for one individual in a coworking space, or they can be for teams of 20, 50, or more. Found in both traditional office environments and coworking spaces, private offices are separated from other workspaces by walls or partitions. They are usually removed from the main open-plan office or common areas so occupants can focus and work without distractions.
PropTech
PropTech, or property technology, refers to the use of technology to improve and innovate in the real estate industry. It can encompass a wide range of applications, including the use of software to manage properties, virtual and augmented reality tools for real estate marketing, and online platforms that connect buyers, sellers, and renters. PropTech can also include the use of sensors, data analytics, and other technologies to improve the performance, energy efficiency, and safety of buildings. The overarching goal of PropTech is to make the process of managing and procuring real estate more efficient, transparent, and accessible.
Serviced Office
(Also known as: Executive Suite)
Serviced offices are ready-to-go, fully-furnished workspaces within a business center or coworking space. Serviced offices are typically operated by third-party providers and are available to rent on short, flexible terms from one month up to several years. For an all-inclusive rental price, serviced offices usually come with cabling, chairs, desks, storage, and technology integrations as contracted between the occupier and operator.  
Space-as-a-Service (SPaaS) 
Considered by many to be one of the most influential business models impacting commercial real estate today, space-as-a-service is space that is procured on demand. Also known as workspace-as-a-service, SPaaS refers to the combined offering of real estate and enhanced user experience (UX), providing a physical workspace and specific amenities to create an all-inclusive work experience. This model increases flexibility and economic security by allowing customers to rent out only the amount of space they need for shorter periods of time.
Sustainability
The broad definition of sustainability is the ability to exist and develop without depleting natural resources for the future, by ensuring a balance between economic growth, environmental care, and social well-being. As it relates to workspace, sustainable real estate includes commercial and residential property that is designed, built, and operated in a way that minimizes environmental impact. 
Temporary Office Space
A temporary office space refers to a workspace that is intended for use on a short-term basis. This type of space is often rented by companies or individuals who need a place to work for a period of days, weeks, or months, but do not want to commit to a long-term lease. Temporary offices can be a good option for businesses that are in transition, or for individuals who need a place to work on a project or are in between permanent job assignments.
Traditional Office Space
A traditional office space (or leased office space) is rented directly from a landlord, normally on a per-square-foot-per-year basis for a fixed length of time. It may also be purchased outrightly, requiring the owner to build out and furnish the office, as well as take care of all utilities and capital expenditures. Ideal for privacy and focus, traditional office spaces are essentially a personal headquarters for a company. A typical floor plan may include a combination of private offices, an open space for cubicles or desks, and a meeting room. 
Virtual Office (VO)
A virtual office is a service that provides businesses with any combination of services, workspace, and/or technology without the capital expenses of owning or leasing a traditional office. The main driver for purchasing a VO is to acquire a marketable or prestigious business address. Many virtual offices are offered from a flexible office space location and include features such as live receptionist services, parcel handling, and more. They may also include dedicated office space and meeting rooms so that companies and individuals can meet with their clients when needed. 
Workstation
A workstation refers to a desk and chair where work can be carried out within a shared office space. Operators will typically list the number of workstations available within their spaces to designated total capacity.
Read next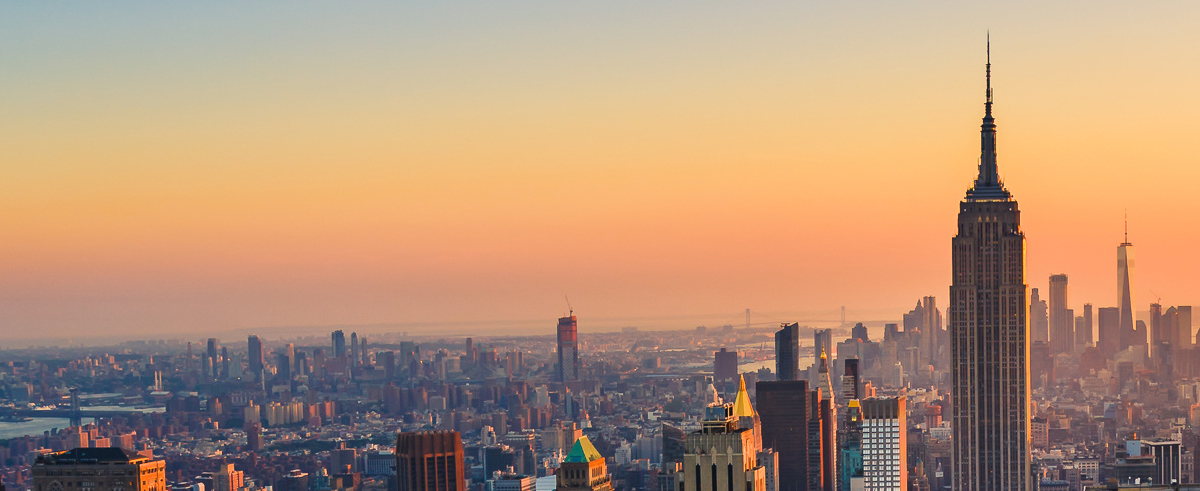 Webinar - Using Data to Select and Open Profitable Centers in North America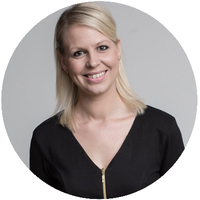 Need something custom?
Our experts can deliver insights or a flexible workspace report tailored to your specifications.