Tuesday, April 28 , 2020
Simon Johnson gives his predictions on the longer-term implications for corporate real estate and commercial office space post Covid-19.
"We are still going to need a common place to create a sense of mission and of company. The future of the office will be based around a mix of different styles – the central office, the flexible locations, and enabling remote-working. We all miss our colleagues, we miss sitting across from them and interacting with them."
Senior CRE advisor at Global Pharmaceutical Firm
The question is what the longer-term implications will be for how we work and the consequential impact on corporates, corporate real estate and commercial office space.
This could be the most exciting catalyst for change in a generation, as it directly addresses - and has already broken - the boundaries that have limited the appetite for change that we experience every day with the clients that we work with. 
---
The Pre Covid-19 directional trend
"Working from home proves that offices are out of date – we're more productive in our jim-jams"
– Rod Liddle, The Sunday Times
There has been a key directional trend over the last 20 years towards businesses becoming more agile, that has seen shorter business planning periods and even shorter company lifecycles. Our ability to work flexibly has been an outcome of this trend, and has been enabled by mobile technology, connectivity, collaboration software and secure cloud platforms. The conversations we have had with key CRE stakeholders over the last few weeks since lockdown all suggest that this process will now accelerate.   
"Agile" or "Flexible" or "Smart" working has been embraced by employers and employees to varying degrees, typically linked to the nature of business activity, the nature of individual roles, levels of collaboration and corporate culture. Most of the corporates that we work with increasingly refer to space in categories such as "core", "semi-flex" and "flex". However, the balance is still typically heavily weighted towards "core" space.
Whereas at the "flex" end of the spectrum the total amount of flex space in the market still only amounts to some 5% of requirements, with many corporates still carrying and managing flexibility internally to their portfolios. The CRE influencers we have interviewed believe that this is going to change.
"The Covid-19 crisis will change society, trade and economics"
– John Nugée, OMFIF
---

Prediction 1: "Homeworking – a pendulum shift"
Companies and employees will also be learning a huge amount about the effectiveness of remote working for their business and the roles within the business. If the pendulum moved from say 10% remote working pre Covid-19 to say 90% during Covid-19, then the pendulum is likely to move in phases back the other way. It is reasonable to expect an average of 40-50% remote working to become the long-term norm.  
This re-balancing won't be entirely organic and that there will be significant planning, change management, organisational and policy change required in order to optimise this balance and associated effectiveness within individual companies. This will have a huge impact on corporate footprint requirements.
---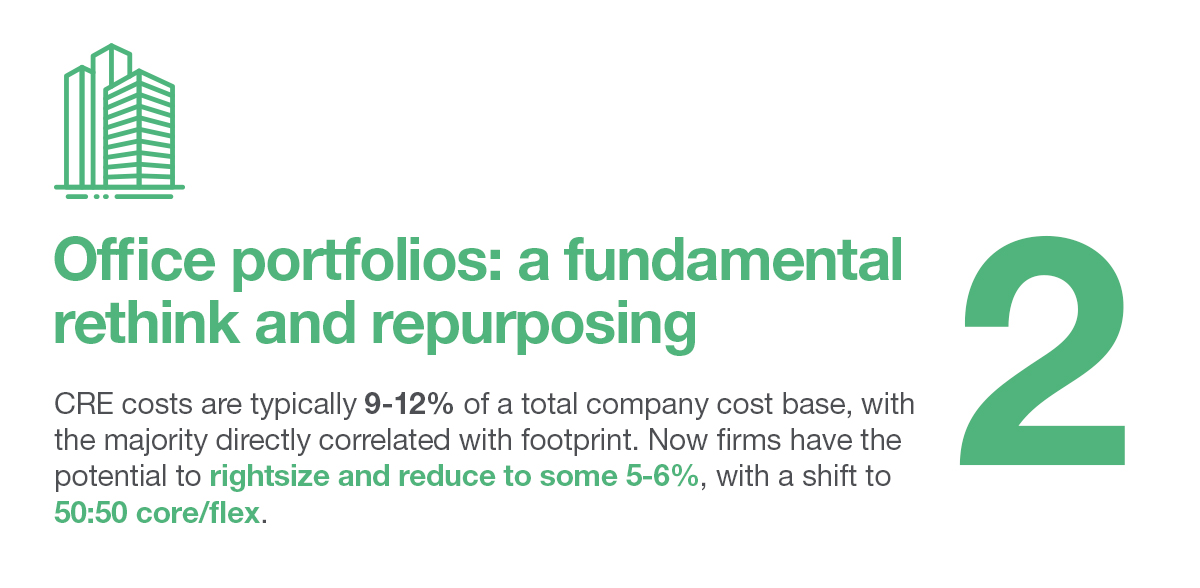 Prediction 2: "Office portfolios – a fundamental rethink and repurposing"
Right size - If there is a long-term pendulum shift in remote working that reduces demand for office space by some 40% to 50%, then the financial opportunity will certainly not be lost on financial directors worldwide. Corporate Real Estate costs are typically 9-12% of a total company cost base and the majority of this cost is directly correlated with footprint. Therefore, there is a potential over time for this benchmark for many companies to reduce to some 5-6%.
This financial prize should not be under-estimated in terms of the potential positive benefit on both operating and capital cost, not a willingness to invest to achieve. In addition, if the "core", "semi flex" and "flex" balance is currently 70:20:10 then this too is likely to shift dramatically to a 2 tier "core and flex" approach weighted to around 50:50.
Right purpose - On the assumption that more individual work will be undertaken remotely, then the function and physical design of office space will also need to evolve and rebalance. There will be a far greater emphasis on team, meeting and social space, in order to align better to employee needs. This is likely to manifest in some level of de-densifying space and will place greater and lasting demand for improved hygiene and facilities services.
Re-purposing space takes time, investment and, to be done well, demands strong alignment between other support functions, such as IT, HR and Operations. There will be significant planning, resource and investment effort required to make this shift, which may take as long as ten years to implement after lease events and other issues are taken into account.
Hub and Spoke - A by-product of the balance between remote working and office-based working will be a greater emergence of more local office "spokes" aligned to transport networks – or Work Nearer to Home (WNH).  This will allow workers to come together to fill personal contact voids without necessarily commuting into the main "hub" office. In order for minimum viable scale, these local "spokes" would logically be more multi-organisational rather than dedicated to individual companies.
Sector aggregation - There will be a greater level of sector aggregation that emerges. We are already seeing this in the emergence of Kings Cross in London as a tech hub (akin to the Silicon Valley of the UK) and with Canary Wharf being long established as a financial services hub.  Sectors also tend to have sector level space and infrastructure needs and so I believe the rebalancing and consolidation of corporate portfolios can and should lead to further sector aggregation. 
---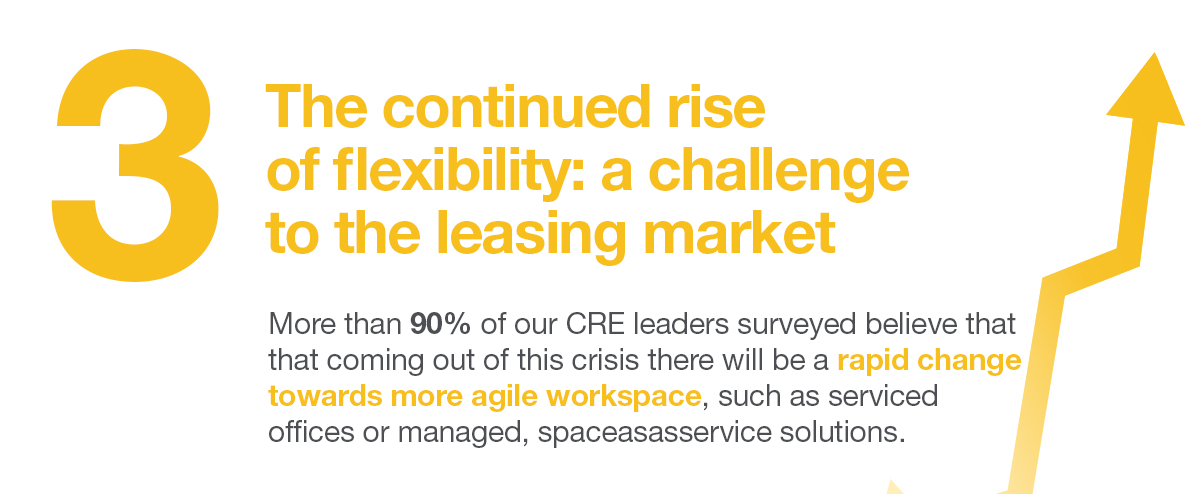 Prediction 3: "The continued rise of flexibility – a challenge to landlords and the leasing market"
The corporate office market has not progressed much in the last 50 years in terms of how landlords and occupiers interrelate. Prime offices, in particular, remain heavily skewed towards long term leases where much of the risk and burden sits with the occupying tenant. There has been a growing trend towards increasing flexibility, through more agile approaches such as serviced office space and shorter-term managed lease solutions or #spaceasaservice. However, this only accounts for some 5% of the total office market across the UK, and less than that globally. 
Any material reduction in demand for office space demand and any material increase in demand for occupational flexibility will create a supply and demand imbalance that will dramatically impact the market and require a fundamental rethink. Our CRE influencers are already demanding increased flexibility, are unwilling to take on the same levels of capital and will be unwilling to accept the same levels of risk as before.
---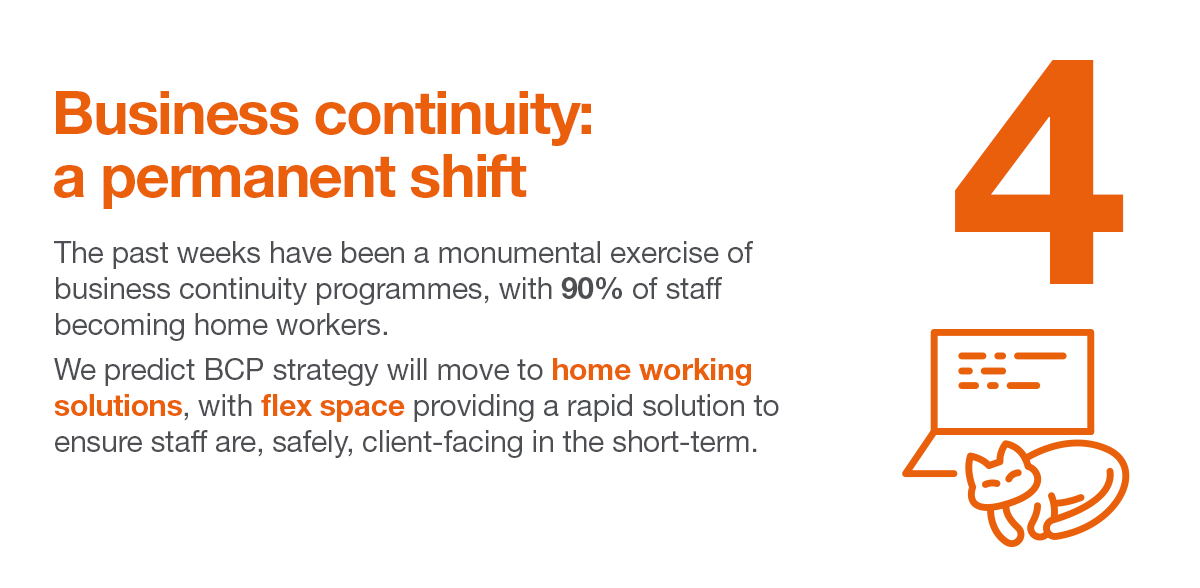 Prediction 4: "Business continuity – a permanent shift"
Who would have thought that the vast majority of office workers would adapt so quickly and effectively to working from home, that IT and broadband networks would hold up so well and that employees and employers could cope as well as we have (to date). This signals a permanent shift relative to business continuity planning, both linked to delays in projects associated with property change as well as event-based disasters.
Previously the assumption had been that some people could work at home for a period of days, critical functions required immediate re-provision of space and that supplementary / replacement office space would been needed for the majority rapidly. Homeworking will now be a far greater strand of all business continuity and disaster recovery planning.
---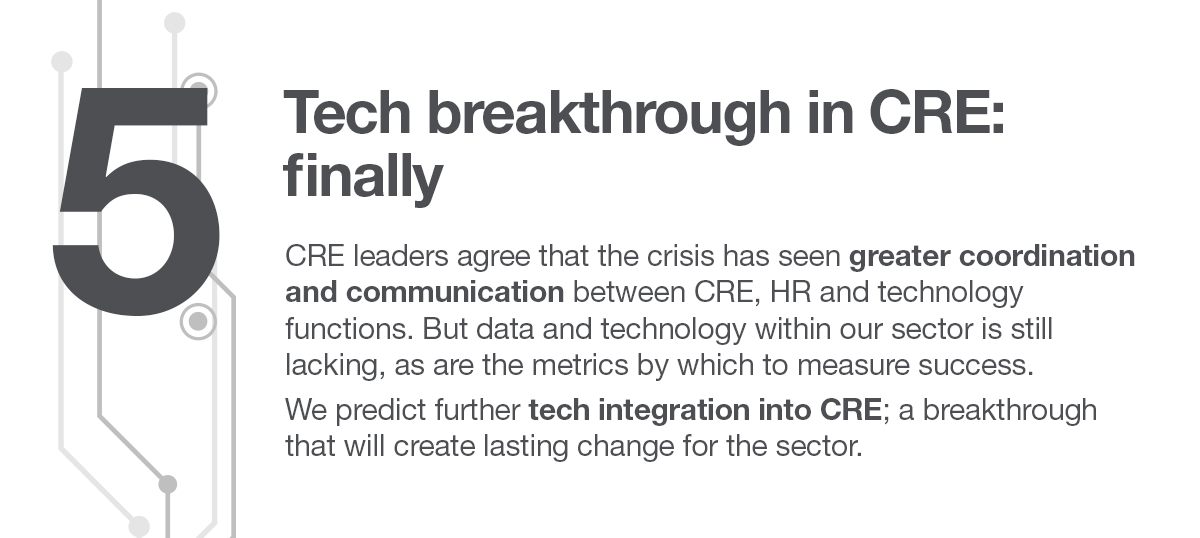 Prediction 5: "Technology breakthrough in CRE – finally"
Technological innovation has failed to permeate through CRE, which seems when consumer technology continues to race ahead and reshape entire industries. There are multiple reasons for this – it has too long been non-core for the sector, the capability in the sector is lacking, efforts to date have been highly fragmented, the commercial rewards have not been sufficient for adequate investment and data across corporate functions itself is often guarded in corporate silos. There is also the sense that the view of CRE from wider business decision-makers has led to tactical demands that encourage tactical responses rather than strategic innovation.
This should now change. The technologies that already exist and are applied very successfully in other sectors will be applied to the CRE market. Companies will demand better data and the technology to assess the size, flexibility and functional requirements of future office portfolios.
---
Conclusion
Covid-19 has shown the world that we can cope with rapid changes to the way we all work, that a new approach is needed and that it can actually lead to a brighter future. This is an opportunity to forge a stronger, strategic approach to CRE that drives business value. An approach driven by better adoption of technology and use of data, which ultimately frees business to become more agile and change the way it views and uses the office.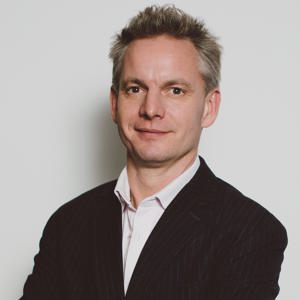 Simon has 20 years' experience across the full real estate spectrum working with CBRE, DTZ and EY and for many blue-chip global firms and public sector organisations including HSBC, Sage, RSA, Aviva, DEFRA, DWP and HMRC.
Download now
Read next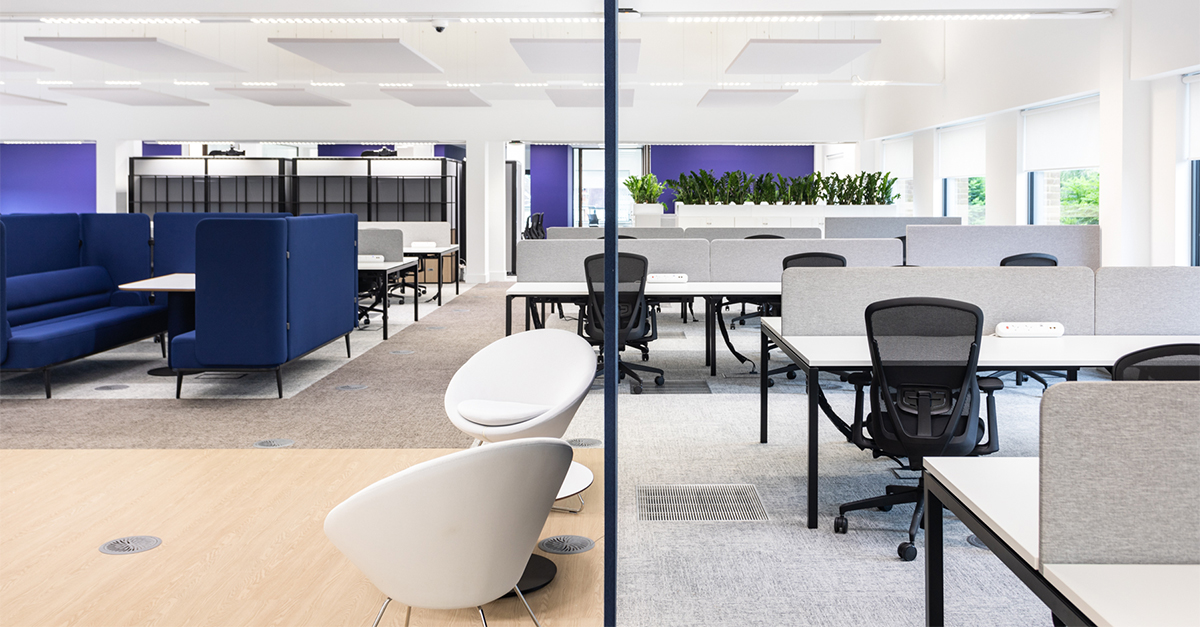 The Managed Office: When flexible workspace falls short and DIY isn't an option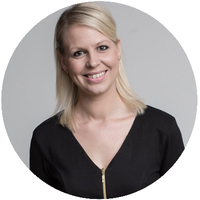 Need something custom?
Our experts can deliver insights or a flexible workspace report tailored to your specifications.